Equal Protection Clause Violations
The Equal Protection Clause is part of the 14th Amendment of the U.S. Constitution and a fundamental pillar of the American Republic. This Equal Protection Clause mandates that no State may deny its citizens equal protection of its governing laws.(96)
Table 6 illustrates three major alleged violations of the Equal Protection Clause in the 2020 presidential election. As the table illustrates, each violation was observed to occur across all six battleground states.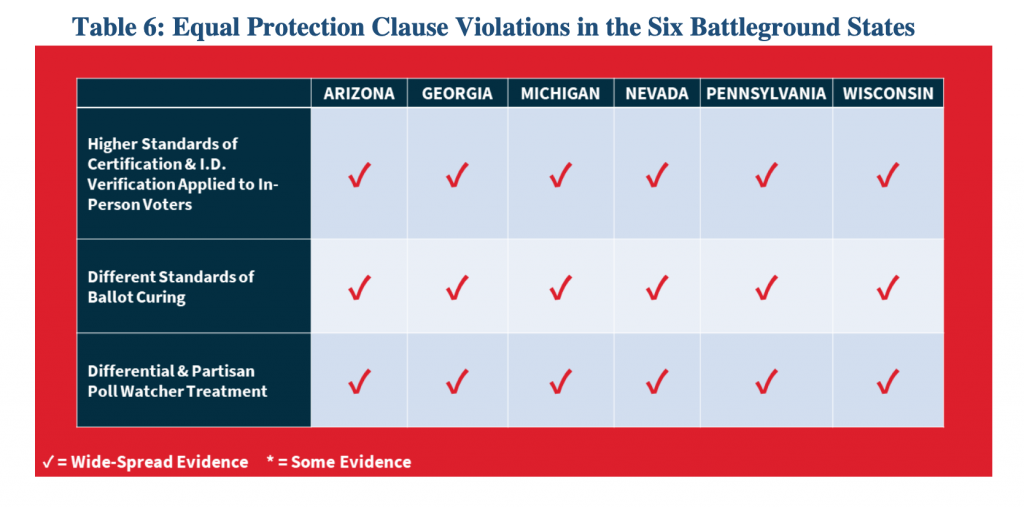 Higher Standards of Certification & I.D. Verification Applied to In-Person Voters
The first alleged violation focuses on the application of higher standards of certification and voter identification for in-person voters than mail-in and absentee ballot voters. In effect, these higher standards disproportionately benefited the candidacy of Joe Biden because President Trump had a much higher percentage of in-person voters than mail-in and absentee voters. Indeed, mail-in and absentee ballots were largely skewed for Joe Biden across the country by ratios as high as 3 out of 4 votes in some states.(97)
Note here that much of the alleged fraud and ballot mishandling focused on mail-in voters and absentee ballots. Therefore, the lower the level of scrutiny of these voters, the more illegal votes for Joe Biden relative to Donald Trump could slip in. It should likewise be noted here that this particular violation of the Equal Protection Clause was further enabled by poll watchers being denied meaningful observation.
Perhaps the most egregious examples of this particular violation of the Equal Protection clause occurred in Georgia and Michigan. Georgia, for example, requires ID for voting in-person and Michigan will only allow provisional voting without an ID. However, in both Georgia and Michigan, a valid ID is not required to vote by mail so long as the person has already registered in a previous election.
These procedures are ripe for fraud. In fact, there is evidence that election fraudsters targeted voters who had voted in past elections but not voted in more recent ones. These fraudsters could then cast ballots on behalf of these infrequent voters with little likelihood they would be caught. Numerous affidavits, however, detail persons arriving to vote at polls only to be informed that records indicate they had already voted. At least fourteen such affidavits have been made by Georgians.
As a further example, in Wisconsin, mail-in ballots were accepted without witness signatures placed properly in the allocated envelope location.(98) A comparable process for in-person voting would have resulted in the invalidation of the vote.
Different Standards of Ballot Curing
As a second major violation of the Equal Protection Clause, likewise observed across all six battleground states, different standards for correcting mistakes on ballots (ballot curing) were applied across different jurisdictions within the states. Often, jurisdictions with predominantly Democrat registration were more expansive about allowing the curing of ballots than jurisdictions with predominantly Republican registration.
In Pennsylvania, there was a clear difference between how ballots were – or were not – cured in Republican counties versus Democrat counties. When Pennsylvania's Secretary of State Kathy Boockvar issued illegal guidance authorizing counties to cure ballots, this illegal guidance was not followed in at least eight different Republican counties.(99) Meanwhile, ballots were cured in Democrat counties under this illegal guidance.(100)
In Arizona, there likewise was a clear difference between how in-person voters were treated versus mail-in ballots. On the one hand, mail-in voters had up to 5 days to "cure" or "fix" invalid mail-in ballots sent prior to Election Day.(101) On the other hand, in-person voters in Maricopa County, for example, had to deal with poll workers who did not know how to work electronic voting machines properly. This resulted in thousands of in-person votes being marked incorrectly and disregarded rather than cured.(102)
Differential and Partisan Poll Watcher Treatment
In most states, political party candidates and ballot issue committees are able to appoint poll watchers and observers to oversee the ballot counting process.(103) Such poll watchers and observers must be registered voters and present certification to the Judge of Elections in order to be able to fulfill their duties at a polling location.(104)
Such certified poll watchers should be free to observe at appropriate distances regardless of their party affiliation. Yet in key Democrat strongholds, e.g., Dane County in Wisconsin and Wayne County in Michigan, which yielded high Biden vote counts, Republican poll watchers and observers were frequently subject to different treatment ranging from denial of entry to polling places to harassment and intimidation.
For example, in Georgia, a certified poll watcher witnessed other poll workers at a polling location discussing how they should not speak to her due to her party affiliation. (105) In Pennsylvania, a Republican poll watcher was harassed and removed from the polling location due to his party affiliation.(106) In Wisconsin, a Republican poll watcher was prevented from observing due to the fact that polling locations were not allowing Republicans in.(107)
Note the synergy here between the problem of the process foul involved with denying access to certified poll watchers (discussed in the previous section) and the violation of the Equal Protection Clause such conduct entails when such denial, harassment, and intimidation differs by party affiliation.
ENDNOTES
96 Cornell University, "Equal Protection," Legal Information Institute,   https://www.law.cornell.edu/wex/equal_protection 
97 Lai, Jonathan et al, " Joe Biden won 3 of every 4 mail ballots in Pennsylvania. Trump won 2 of 3 votes cast in person. What does that mean for the future?" The Philadelphia Inquirer, https://www.inquirer.com/politics/election/mail-ballots-pennsylvania-election-trump-biden-20201119.html 
98 Declaration of John Doe, County of Milwaukee, Wisconsin,  November 11, 2020 
99 Blair County, Berks County, Lancaster County, Carbon County, Clinton County, Lycoming County, Dauphoin County, and Perry County. 
100 Joseph D. Hamm v. Kathy Boockvar, Commonwealth Court of Pennsylvania, November 3, 2020. http://www.pacourts.us/assets/files/setting-7723/file-10362.pdf?cb=f327ff 
101 Secretary of State of Arizona, "Voters have a limited amount of time to correct certain ballot issues," November 9, 2020.  https://azsos.gov/about-office/media-center/press-releases/1248 
102 In the United States District Court for the District of Arizona, Tyler Bowyer et al v.. Doug Ducey, December 2, 2020. https://www.democracydocket.com/wp-content/uploads/sites/45/2020/12/Bower-Complaint-AZ.pdf 
103 National Conference of State Legislatures, "Poll Watchers and Challengers," October 1, 2020. https://www.ncsl.org/research/elections-and-campaigns/poll-watcher-qualifications.aspx 
104 National Conference of State Legislatures, "Poll Watchers and Challengers," October 1, 2020. https://www.ncsl.org/research/elections-and-campaigns/poll-watcher-qualifications.aspx 
105 Affidavit of Jane Doe, Rockdale County, Georgia, November 2020. 
106 Declaration of John Doe, Philadelphia, Pennsylvania, November 8, 2020. 
107 Affidavit of Jane Doe, Brookfield, Wisconsin, November 10, 2020. ,