Perhaps no device illustrates that technology is a double-edged sword than the machines and associated software that have come to be used to tabulate votes across all 50 states.108 Types of voting equipment include optical scanners used to process paper ballots, direct recording electronic systems which voters can use to directly input their choices, and various marking devices to produce human-readable ballots.(109) 

Two main types of voting machine irregularities have been alleged in the 2020 presidential election. As Table 7 illustrates, these types of irregularities include large-scale voting machine inaccuracies together with inexplicable vote switching and vote surges, often in favor Joe Biden.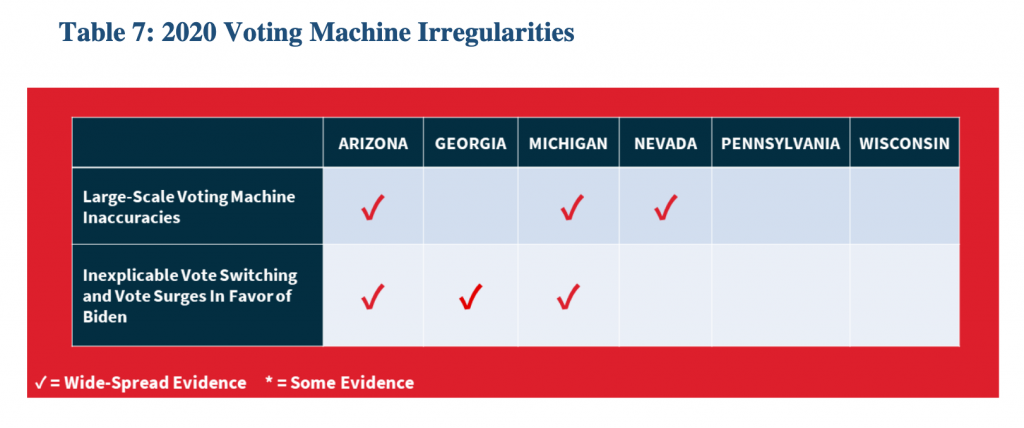 Large-Scale Voting Machine Inaccuracies
Much has been made about the shadowy genesis of a company called Dominion which provides (110) traced to an effort by the Venezuelan dictator Hugo Chavez to rig his sham elections. Dominion is also alleged to have ties to the Clinton Foundation,(112) while the Smartmatic software used in the Dominion machines is alleged to have links to the shadowy anti-Trump globalist financier George Soros.(113)
The controversy swirling over Dominion and Smartmatic notwithstanding, one of the biggest problems with machine inaccuracies may be traced to a company called Agilis.  Nevada election officials in Clark County, a Democrat stronghold in Nevada, used Agilis signature verification machines to check over 130,000 mail-in ballot signatures.
According to a court case filed in the First Judicial District Court in Carson City, the Agilis machines used a "lower image quality than suggested by the manufacturer."  Clark County Election Department officials also lowered the accuracy rate below the manufacturer's recommendations, making the whole verification process unreliable. (114)
In a test run, it was proven that, at the manufacturer's setting, the Agilis machine already had a high tolerance for inaccuracies—as high as 50% non-matching. In other words, half of the ballots that might be moved through the machine would be impossible to verify; and Clark County officials lowered that threshold even further.(115) 
As a final comment on this case, there is also the broader legal matter that the Agilis machines were used to "entirely replace signature verification by election personnel." This is contrary to Nevada state law. 
As noted in a court case: "In violation of Nevada law, the Clark County Election Department allows the Agilis machine to solely verify 30% of the signatures accompanying the mail-in ballots without ever having humans inspect those signatures."(116)
 A similar problem has been alleged in a court filing in Arizona with a software known as the Novus 6.0.0.0. In cases where ballots were too damaged or illegible to be read by vote tabulation machines, Novus was used in an attempt to cure or restore the ballots. The system would do so by trying to read the applicable scans of the original rejected ballots. However, as noted in a court case filed by Kelli Ward, Chairwoman of the Arizona Republican Party: "the software was highly inaccurate, and it often flipped the vote." (117)
 Inexplicable Vote Switching and Vote Surges In Favor of Biden 
As a further complication to the Novus software problem in Arizona referenced above, the software was not only highly inaccurate. According to observers, and as an example of inexplicable vote switching, "the software would erroneously prefill 'Biden' twice as often as it did 'Trump.'"(118)
At least one instance of a large and inexplicable vote switching and vote surge in favor of Joe Biden took place in Antrim County, Michigan – and it is associated with the controversial aforementioned Dominion-Smartmatic voting machine hardware-software combo.(119) In this Republican stronghold, 6,000 votes were initially, and incorrectly, counted for Joe Biden. The resulting vote totals were contrary to voter registration and historical patterns and therefore raised eyebrows. When a check was done, it was discovered that the 6,000 votes were actually for Donald J. Trump.
A subsequent forensic audit of the Antrim County vote tabulation found that the Dominion system had an astonishing error rate of 68 percent.(120)  By way of comparison, the Federal Election Committee requires that election systems must have an error rate no larger than 0.0008 percent.(121) 
Perhaps even more troubling given concerns over hackers and Dominion's alleged ties to bad foreign actors, the records that would have allowed the detection of remote internet access went missing from the Antrim County system.  This was in direct violation of Michigan state law,(122) which requires retention of voting records for 22 months — such information was in place for previous election years, but not this election. At the very least, the results of this audit indicates the need for further investigation of the Dominion system across other states in the country. 
In Georgia, there were numerous "glitches" with the Dominion machines where the results would change. The most notable of these changes was a 20,000 vote surge for Biden and 1,000 vote decrease for Trump.(123) 
ENDNOTES
110 Dominion Voting Systems, "About," https://www.dominionvoting.com/about/
111 Varnona, Frank "2020 Stolen Election by Dominion Voter Systems – Hammer & Scorecard," Conservative Business Journal, https://www.conservativebusinessjournal.com/2020-stolen-election-hammer-and-scorecard/
112 Clinton Foundation, "The Delian Project," https://www.clintonfoundation.org/clinton-global- initiative/commitments/delian-project-democracy-through-technology
113 For example, the Chairman of Smartmatic, Mark Malloch-Brown, is on the board of George Soros' Open Society Foundation. Open Society Foundation, "Leadership," https://www.opensocietyfoundations.org/who-we- are/leadership/mark-malloch-brown
114 The First Judicial Court in Carson City, Nevada, "Jesse Law et al v. Judith Whitmer et al," November 17, 2020. https://www.democracydocket.com/wp-content/uploads/sites/45/2020/11/nov-17-doc-2.pdf
115 The First Judicial Court in Carson City, Nevada, "Jesse Law et al v. Judith Whitmer et al," November 17, 2020. https://www.democracydocket.com/wp-content/uploads/sites/45/2020/11/nov-17-doc-2.pdf
116 "In violation of Nevada law, the Clark County Election Department allows the Agilis machine to solely verify 30% of the signatures accompanying the mail-in ballots without ever having humanize inspect those signatures."
117 In the Superior Court of Arizona in and For the County of Maricopa, "Kelli Ward v. Constance Jackson et al," November 24, 2020. https://assets.documentcloud.org/documents/20417265/ward-v-jackson-complaint-and-petition- for-discovery.pdf
118 In the Superior Court of Arizona in and For the County of Maricopa, "Kelli Ward v. Constance Jackson et al," November 24, 2020. https://assets.documentcloud.org/documents/20417265/ward-v-jackson-complaint-and-petition- for-discovery.pdf "In violation of Nevada law, the Clark County Election Department allows the Agilis machine to solely verify 30% of the signatures accompanying the mail-in ballots without ever having humanize inspect those signatures."
119 Affidavit of John Doe, Dallas County, Texas. November 17,2020. https://www.courtlistener.com/recap/gov.uscourts.gand.283580/gov.uscourts.gand.283580.7.1_2.pdf
120 Ramsland Jr., Russell. "Antrim Michigan Forensics Report." William Bailey v. Antrim County, Michigan, December 13, 2020. https://depernolaw.com/uploads/2/7/0/2/27029178/antrim_michigan_forensics_report_[121320]_v2_[redacted].pdf
121 "Excerpts from the 2002 FEC Voting System Standards – 3.2.1 Accuracy Requirements." Michigan Secretary of State. https://www.michigan.gov/sos/0,4670,7-127-1583-130621–,00.html
122 "Document Retention Schedule." Michigan Bureau of Elections, May 2019. https://www.michigan.gov/documents/sos/Document_Retention_Schedule_412493_7.pdf
123 Sperry, Paul. "Georgia voting irregularities: The curious case of Biden's 20,000-vote surge." The Citizen, November 15,2020. https://thecitizen.com/2020/11/15/georgia-voting-irregularities-the-curious-case-of-bidens- 20000-vote-surge/